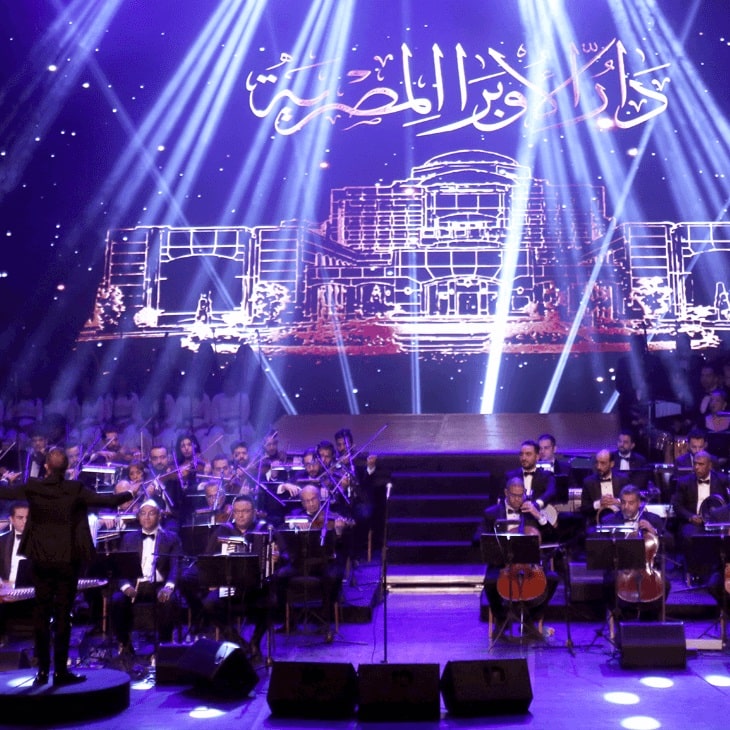 National Arab Music Ensemble
The Cairo Opera House established the National Arab Music Ensemble in 1989 under the supervision of Dr. Ratiba El- Hefny and conducted by Maestro Selim Sahab. The main objective of the Ensemble was to revive the masterpieces of Arab musical heritage, through collecting the musical heritage of the different Arab nations and representing it in an academic context, the Ensemble occupies a unique position in the Arab music scene.
Soloists from different Arab countries performed with the Ensemble, among them were famous Arab singers like Wadih El Safi, Souad Mohammed, Souad Mekkawi, Soumaya Qaysar and Lotfy Boshnaq sang with the National Arab Music Ensemble. Noteworthy, the Ensemble consists of about 100 members including musicians, male and female singers, administrators and technicians.
Due to its exceptional style, the National Arab Music Ensemble earned national and international acclaim. In its first year, the ensemble was awarded the Gold Medal and its conductor the Silver Medal at the Babylon Music Festival. 
The Ensemble participated in numerous international festivals and celebrations, such as the Carthage Festival in Tunisia (1990), the Kuwaiti National Independence Day (1991), the Silk Road Festival in Japan (1991), El Rabat Festival (1993), Sour Festival (Lebanon 1997), El Kareen Festival (Kuwait 1997), Shopping Festival (Dubai 1998), El Mahaba Festival (Syria 1998), the Egyptian-American Friendship Association Concert (USA 1998), the Egyptian-Tunisian Cultural Week (Tunisia 2001), Umm Kulthum's Centennial Celebration (Paris 2001) and El Rabat Festival (Morocco 2001). The Ensemble also performed at the Royal Hall in the United Kingdom in 1997, and others.